VE75 Flame of Remembrance Sponsored Bike Ride
Date: 7 May 2020
Time: 8:00 am - 3:00 pm
Location: West Malling
VE75 FLAME OF REMEMBRANCE CHARITY BIKE RIDE
How would you like to raise money for the Wooden Spoon or SSAFA  (Soldiers, Sailors, Airmen and Families Association) charities at the same time as enjoying the Flame of Remembrance event with fellow veterans and armed services representatives?
Follow part of the route from Twickenham to Dover, as the Flame of Remembrance Lanterns 'Poppy' and 'Bluet' travel to Calais for the VE75 commemorations.
The sponsored bike ride on Thursday 7th May, will start at the site of the former RAF station at West Malling, now known as King's Hill.
Bike transport and a return coach is being provided to bring our riders back to West Malling, but you are quite welcome to continue onward to Calais under your own steam if you choose!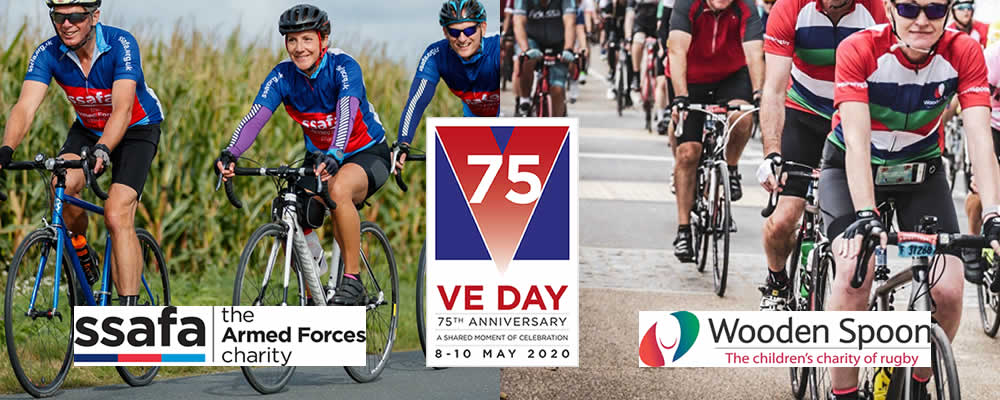 Sponsored Bike Ride Itinerary (Full information pack provided with application)
Thursday 7th May
08h00  Following viewing of the commemorative lanterns 'Poppy' and 'Bleuet', the ride sets off along the route to Dover castle with an estimated time of arrival between 12h00 and 14h00, waved off by Royal Hospital Chelsea Pensioners and other veterans.
Following a route via Headcorn (old RAF Station), the RAF Battle of Britain Museum and Battle of Britain memorial at Hawkinge the route take us to Dover Castle where we can view the lanterns between 14h00 – 15h00. Early arrivals can enjoy free entry to the Operation Dynamo exhibition (Admiral Ramsey's Dunkirk evacuation command centre)
15h30 Lantern handover ceremony at Dover Castle from the UK team to the French delegation. (Ceremony open to the public)
>> Link to Application Form – entry before 31st March, but earlier to guarantee your charity jersey before the event
>> Attend the VE75 Flame of Remembrance Rugby Festival in Calais
>> More details about the VE75 Flame of Remembrance Lanterns Tour
This ride is organised with the assistance of Peter McQuade and The Hayling Cycle Ride  (www.haylingcycleride.org.uk) . The latter grew out of  the Paris to Hayling Charity Ride which Peter started  in 1986 .
It is almost certainly the oldest long-distance charity bike event in the country and possibly the world .  During the past 34  years  Peter  has helped organized not just the Paris to Hayling (now a two-way ride) but also many  other cycle events in  the UK , mainland Europe and Africa.   He was awarded an MBE for his services to charity cycling in  the 2016 New Honours List .