VE75 Flame of Remembrance Rugby Festival
Date: 8 May 2020 - 10 May 2020
Time: All Day
Location: Calais
Given the current situation, the "Flame of Remembrance" Event has been postponed to a future date, probably in September, which will be announced once we have clearance to host.
May 2020 provides the opportunity to mark the end of the Second World war in Europe with a unique event commemorating the Rugbymen from around the world.
Two dates come together on the timeline enabling World Rugby Memorial to create a fitting tribute.
The event will be a combination of education, remembrance and sport.
Between May 26th to June 4th 1940 the Dunkirk Evacuation took place. Code named Operation Dynamo over a third of a million servicemen were rescued and our event commemorates the "Miracle of Dunkirk" with a ceremony on May 10th 2020 at the Dunkirk Memorial. 2020 marks the 80th anniversary.
On May 8th 1945 the war in Europe ended and we will commemorate the 75th anniversary in Calais which will form part of the national remembrance in France.
Later in the day we have arranged a special ceremony in the village of Esquelbecq the scene of the SS massacre of BEF troops.
Throughout the day on Saturday May 9th we will be hosting a rugby festival featuring teams from the UK and Europe.  Youth teams at U12 and U13/14 age groups will play to honour the Rugbymen of WW2.
In addition to this there will be some commemorative games featuring Veterans Rugby Teams.
Completing the line up will be Military and Charity rugby games as we raise money for Wooden Spoon (The Children's Charity).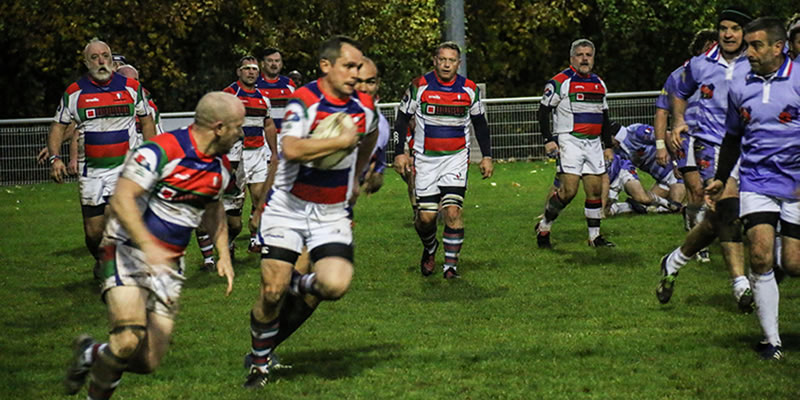 A special evening of entertainment will take place in the evening at the Commemorative Dinner.
Our special guests for the weekend will be members from the Royal Hospital Chelsea.
Our finale will take place at the Dunkirk Memorial with a fitting tribute combining the Military and Youth on Sunday morning May 10th as we overlook the beaches.
The event marks the darkest days of 1940; and the celebration of the end of war in 1945.
Event details
Friday 8th May
08h00 – The local French Cycle Association will make a Commemorative Ride around Dunkerque and Calais with the Flame of Remembrance which will have been transported from Twickenham during the previous week.
10h30 – Option to assemble at the War Memorial in Calais, where the Flame of Remembrance will arrive.
11h00 – 12h00 Official French Commemorations led by the Mayor of Calais
12h30 – 13h30 Lunch at the Forum Gambetta, Blvd Gambetta, Calais for all event participants.
After lunch one of three options:
Option for teams to organise their own training sessions at RC Calais
Option to visit the Dunkerque Museum (Operation Dynamo) and have a guided tour of the beaches
Option to visit La Coupole, V1/V2 Rocket Museum at St Omer
15h30 – 16h30 – Departure for Esquelbecq along a special coach route through the village of Esquelbecq, with guide commentary.
17h00 – 18h00 Remembrance Ceremony at the site of the barn where the BEF surrendered to SS Hitler Brigade and were assassinated in May 1940 in Esquelbecq.
Return to Dunkirk/Calais:
Option 1 Return to accommodation in Dunkirk/Calais area followed by free time with own dinner arrangements.
Option 2  Return to Calais for dinner at 19h30 Buffet Dinner ahead of screening of 2017 Dunkirk film at the Forum Gambetta, Blvd Gambetta, Calais.
20h30-23h00 Option to attend a proposed screening of Dunkirk film at Cinema. This will be the English version of the film, which includes Q&A with actors/tech people from the film.
Saturday 10th May is the Rugby Festival – see details below. Note, entry into the rugby festival is included in the WW2 Rugby Tribute event ticket.
>> Book tickets now
Saturday 9th May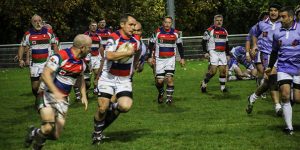 09h00 – Rugby Club Calais – Stadium Opens
10h00 – Ceremony of the Youth Rugby Festival with "Flame of Remembrance"
10h30-15h00 – Youth Festival played on 2 pitches – 13/14 Youth Teams, U12 Youth Teams
12h00-16h00 Veterans Festival begins on 1 pitch – Veterans Rugby Xv's playing a series of shortened games
12h00 – 18h00 – Charity Games begin on main pitch – Featuring the Wooden Spoon Ladies, UK Army Masters, Wooden Spoon Men, and a UK Armed Forces U23's match against local opposition.
Lunch – Meals for participants and supporters will be served at RC Calais in the main marquee, including Bruno's Rostiserrie and a bar.
19h00 – Stadium Closes
20h00 Commemorative Dinner in Calais (Formal)
Sunday May 10
08h45 – 09h45  – Travel from Calais to Rugby Players Commemoration
10h00 – 11h30  Rugby Players Commemoration, Dunkerque Memorial. Led by the UK Services Chaplain & French Chaplain with Emma Brown to sing.
12h00 Depart for home/Calais
Option for groups to visit Operation Dynamo Museum in Dunkerque or V1/V2 Rocket Centre in St Omer in the afternoon before leaving France.
NOTE For clubs with a large squad of players, multiple entries will be accepted for U12s,  U13s and U14s teams playing in the Rugby 15's competition in a series of shortened games.
Youth teams to play a series of shortened games in a festival.