Francourt Events was created by John Dennison and is based in Laon, France.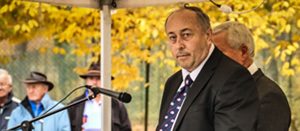 His personal interest in the Great War (WW1) and Second World War (WW2) led him to create Francourt Events and his passion for combining history and sport led to the creation of the World Rugby Memorial working with the Conseil Departmental l'Aisne. The memorial is located on the battlefields of the Chemin des Dames at Oulches-la-Valee-Foulon.
For this, and other work during the WW1 commemorations he was awarded the Centenary Medal by the Aisne Department in France.
Other awards include the City of Compiegne Medal for his work on the Armistice Centenary Rugby Project in 2018 and most recently in January 2020 the Amiens 800 label. This recognition for Francourt Events from the Regional Directorate of Cultural Affairs, Hauts de France on behalf of the President of France, is in recognition for arranging musical events associated with the commemorations at Amiens Cathedral.
We are looking forward to arranging more events across Europe and the UK and being part of the Rugby World Cup 2023 and Olympic Games 2024 in France.