The new partnership with the Shorncliffe Trust is an important step and supplements their educational programme in the UK and Europe, while providing Francourt Events with an important base to launch our "Restart Events" which combines education and activities.
The Shorncliffe Trust was founded in 2005 to save the military archaeology surrounding Shorncliffe Camp near Folkestone, Kent.  Chris Shaw, Chairman of the Shorncliffe Trust tells us about their work.
The site dates back to 1796 when an earth Redoubt was created to house troops to defend from the threat of Napoleonic invasion from Boulogne.  It became the birthplace of the British Light Infantry under General Sir John Moore in 1803 and home to countless regiments both British and foreign ever since.
The Shorncliffe Trust aims are to create a heritage and education centre on the site and showcase the archaeology of Sir John Moore's Redoubt, Martello Tower 9, the WW1 Canadian training trenches, pill boxes, WW2 defences and Shorncliffe Military cemetery.
The Shorncliffe Trust is a prolific creator and instigator of commemorative, fundraising and educational events. They work directly with charities, organisations, schools and community groups to promote our shared heritage around the world.
The Light in the Darkest Hour project was started in 2014 to commemorate the fallen of WW1 in the Shorncliffe Military Cemetery, near Folkestone, Kent.
In 2018 to signify the return of the thousands of British and Commonwealth soldiers who marched out through the gates of the camp in WW1, the Shorncliffe Trust wanted to bring their spirit home to their families and our nation.
This was symbolically achieved November 11th 2018 by the brining of a flame of remembrance from Mons in Belgium, back to Shorncliffe where for the final time, that light would be used to light 500 lanterns placed on the graves of the fallen.
Two specially commissioned Eccles Safety lanterns were commissioned and were made bespoke through their adornment of an original British Army general service button and an original WW1 Canadian Cap badge on their front plate.
They were christened "Tommy" and Maple". They have attended commemoration events, school visits and community events. The Trust actively encourages the public, military personnel and organisations to engage with the lanterns to help them achieve a immersive and tangible connection to the past through the living flame the carry.
In 2019, Tommy and Maple carried their flames from Mons to Edmonton, Canada to mark the return of the Canadian Army home in 1919 and to bring home the spirit of the 50,000 Maple Leaf's that never returned to their families.
In 2020 two new lanterns were created to honour the Royal Navy and the Royal Flying Corps/Royal Air Force who have their men buried at Shorncliffe.  These have been christened "Jack and "Roger".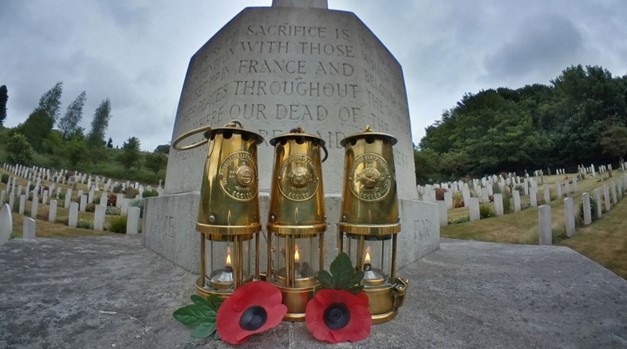 There is more about the lanterns on the Flame of Remembrance page and how Francourt Events and Shorncliffe trust will be working together.
For more information about forthcoming events then see our Education Events page.
If you are interested in learning more about the Shorncliffe Trust go to https://shorncliffe-trust.org.uk/