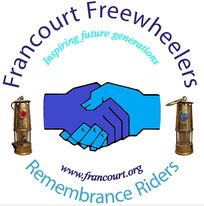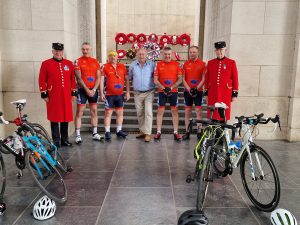 A warm welcome from the new team Francourt Freewheelers. I would like to introduce ourselves and explain what we are all about.
We are a group made up of ex serving military personnel and civilian riders all riding in the name of the fallen soldiers before us.
Having organised and taken part in several charity events over the years I have got to know Francourt Events. They are looking to support sports and military charities alongside the work they already do.
Through my experience in organising charity cycle rides I wanted a new challenge and focus on involving more charities. Having worked alongside Francourt Events on our last ride from Ypres to Worcester in 2022 knowing that the company share the values of education combined with remembrance and sport, we agreed to form Francourt Freewheelers.
I am very pleased to be the Chairman of this cycling team and create new challenges for my friends and colleagues from previous events. Building a bigger, stronger team for the future and widen the number of charities we can support knowing Francourt Events will build us into their events.
It makes me proud to know that with the experience Francourt have already shown this will enable us to fully utilise the support as we did during our recent ride from Ypres to Worcester. We were amazed with the backing they provided enabling us to enjoy more than just the ride. The whole experience of being involved in ceremonies alongside their Ambassador's paying our respects to those that have given their all for us for today.
Francourt Events have a new, fresher approach to raising charitable funds. They are always looking to consider different charities to work alongside.  Their creative approach towards event planning will mean that all participants will have some very special memories.
As Chairman of Francourt Freewheelers I look forward to the challenges ahead and building on the team and volunteers we have already in place and introducing new riders to be part of future events both domestic and international.
Personally, it gives me great pleasure to be welcomed into such an open minded and friendly events company while being able to continue the work I have done for many years, in the knowledge that the company will be there to guide us and help build on what we feel will be the start of a long and prosperous journey for all involved.
Here's to exciting times for 2023 and beyond
Lee Cox
Chairman Francourt Freewheelers
Here's a link to our Just Giving page:
It is a great pleasure to welcome Lee Cox into the Francourt brand.
Since forming the company I have always looked to support sports based and military charities through our international events.
He brings a great deal of experience to our new partnership, along with enthusiasm and determination.
Francourt Freewheelers is a fabulous new initiative bringing together like-minded people.  It will operate independently from the company with its own constitution based in the UK.
Our first premier event will be "The Flame of Remembrance Ride" between September 4th to 7th 2023 cycling from Amiens to Compiegne via the First and Second World War Battlefields of the Somme, Pas de Calais, Aisne, and Oise Regions. 
The riders will meet in Amiens on Sunday September 3rd and depart on Monday, and arriving in Compiegne on Thursday.
Day 1 Amiens to Peronne
Day 2 Peronne to Arras
Day 3 Arras to Laon
Day 4 Laon to Compiegne
The ride is part of our opening event of the Rugby World Cup in France.
For more information about the ride and future events please contact leecox@francourt.org
I am looking forward to working with Lee and the members of the Francourt Freewheelers team.
John Dennison
President Francourt Events